NASA's Applied Sciences Program uses NASA's unique view from space to improve life on Earth. The Applied Sciences Program promotes efforts to discover and demonstrate innovative and practical uses of Earth science data and knowledge to inform decisions about the environment, food, water, health, and safety.
NASA's Earth Science Data Systems (ESDS) Program works in coordination with Applied Sciences throughout the NASA mission life cycle to ensure that high quality, user-friendly, and socially-relevant data and user services are available from NASA's Earth Observing System Data and Information System (EOSDIS) for the Earth science applications community. Support for mission applications begins at the mission concept phase and continues for as long as the data have value.
Applications Plan for New Missions
The Earth Science Division's Directive on Project Applications Program (PDF) requires all NASA Earth Science Division satellite missions entering development after the 2017 Decadal Survey to include an applications program area and an early adopter (EA) program. Earth Science Data Information System (ESDIS) supports these efforts to promote applications use of NASA data products by a diverse user community.
EOSDIS New Mission Life Cycle responsibilities include:
Evaluate the data needs of the applications community. 
Support the development of use cases for applications value. 
Identify mission-specific tools for science and applications. 
Support the identification/creation of simulated data products. 
Support EA Program activities. 
Operate tools and services to support applications users. 
Provide data user support and services.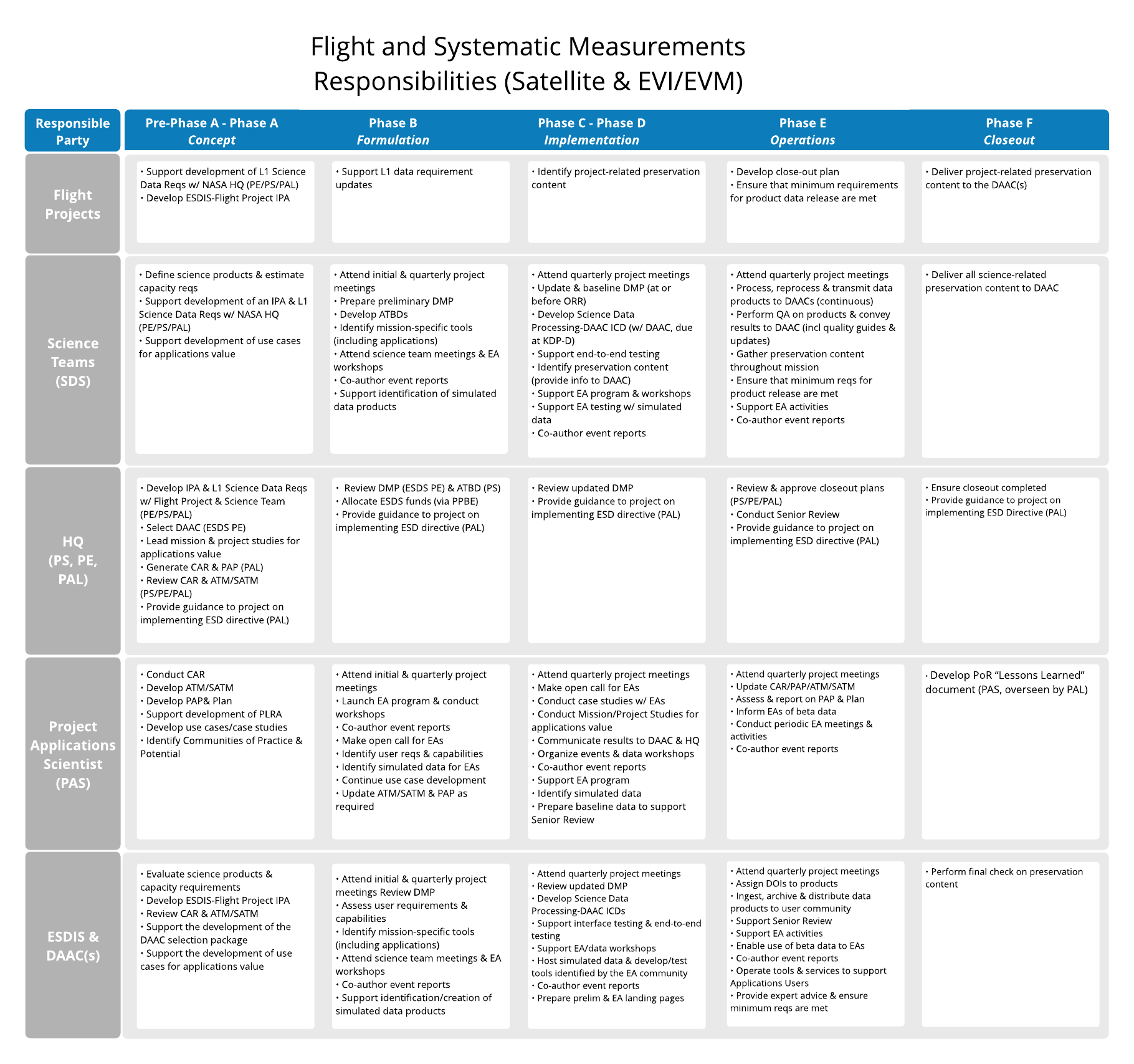 Resources for Applications Program Elements
Disasters: The Disasters Applications area promotes the use of Earth observations to improve prediction of, preparation for, response to, and recovery from natural and technological disasters.
Health and Air Quality: The Health and Air Quality Applications area encourages the use of Earth observations in air quality management and public health, particularly involving environmental health and infectious diseases.
Water Resources: The Water Resources Applications area supports the use of Earth observations in water resources management related to water demand, supply, and quality.
Wildland Fires: The Wildland Fires Application area promotes the use of Earth observations and models focused on addressing issues related to wildland fire in support of management strategies, business practices, and policy analysis and decisions.
Ecological Forecasting: The Ecological Forecasting Applications area promotes the use of Earth observations and models to analyze and forecast changes that affect ecosystems and to develop effective resource management strategies.
Resources for Applications Users
NASA's Earth Science Data Systems Geographic Information Systems Team (EGIST), located at NASA's Langley Research Center, provides sustained support across ESDS to enable the appropriate use and adoption of GIS technology in support of Earth science research and applied science for EOSDIS data.

Geographic Information System (GIS) Data Pathfinder: This pathfinder is geared toward GIS users with links to NASA Earth science data in GIS-ready formats for easy integration and analysis with the primary GIS tools employed by user communities. The pathfinder directly links to NASA geospatial web services and tools.

Tools: NASA's EOSDIS Distributed Active Archive Centers (DAACs) develop tools that offer user communities simple and efficient ways to access and prepare data for analysis.
Webinars and Tutorials: Earthdata resources include live and on-demand video tutorials, data recipes, and webinars that are available to all data users.