NASA's Airborne Data Management Group (ADMG) exists to support NASA's airborne science community, NASA Distributed Active Archive Centers (DAACs), and airborne data users by providing access to relevant resources and data, and by supplying information about existing and past airborne projects. ADMG is located within the Interagency Implementation and Advanced Concepts Team (IMPACT) and operates under the direction of NASA's Earth Science Data Systems.
ADMG Goals, Priorities, Activities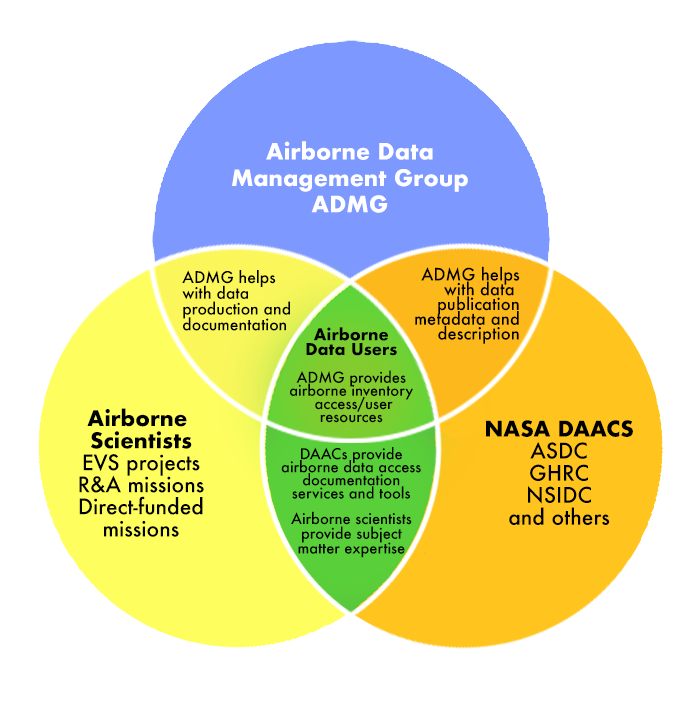 ADMG has gathered airborne and field data management and production documentation and information to help investigation teams prepare their data for archival at NASA data centers.
ADMG is also tasked with providing a full accounting of NASA airborne data and curating detailed metadata to make it easier to locate and use airborne investigation data. To do so, the ADMG is building a comprehensive inventory containing known information about all past and present campaigns, aircraft and other moving platforms, ground platforms, instruments, and data products. Find ADMG Airborne and Field Data Inventory Definitions.
Contact ADMG
The ADMG team can be reached by contacting the IMPACT office.