New imagery from the NOAA-20 satellite, easier ways to filter and discover available imagery, and the ability to have a distraction-free view of imagery without menus, buttons, or timelines are the most recent enhancements to NASA's Worldview interactive data visualization application. These new additions complement features that went live earlier in 2020, including enhancements to the Layer Picker and new ways to work with layers that include classification types (such as the Land Cover Type layer).
A key addition is seven new Visible Infrared Imaging Radiometer Suite (VIIRS) imagery layers from the NOAA-20 satellite: three Corrected Reflectance daily base map layers (True-Color, false-color with Bands M3-I3-M11, and false-color with Bands M11-I2-I1), two Brightness Temperature (Day and Night) layers, and two Fire and Thermal Anomalies (Day and Night) layers.
The addition of VIIRS imagery from NOAA-20 provides not just another source for Worldview imagery, but also another time for which imagery is acquired – NOAA-20 crosses the equator 50 minutes prior to the joint NASA/NOAA Suomi National Polar-orbiting Partnership (Suomi NPP) satellite. This means that Worldview users now have access to four sets of Corrected Reflectance and Fires and Thermal Anomalies (Day and Night) layers: Moderate Resolution Imaging Spectroradiometer (MODIS) imagery from NASA's Terra and Aqua satellites and VIIRS imagery from the Suomi NPP and NOAA-20 satellites. Having similar imagery from four separate satellites ensures continuity of data from older spacecraft (such as Terra and Aqua) and newer spacecraft (such as Suomi NPP and NOAA-20), which is critical when older missions retire.
Along with new imagery, new Worldview features make it easier to work with and view imagery.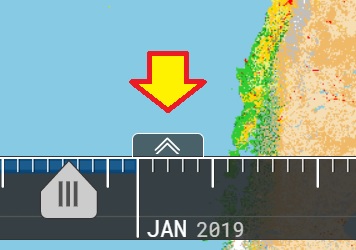 The Timeline Availability Panel enables users to easily view dates that have imagery available for the data product they wish to explore. This has become increasingly important as more imagery products have been added to the system from different missions, many of which have different time ranges for their availability. To turn the Timeline Availability Panel on or off, simply click on the two upward pointing chevrons above the timeline (image at right). Once the panel is open, colored bars indicate date ranges for all imagery layers selected, including imagery layers that are selected, but not active (image below).
NASA's Worldview team also enhanced the functionality of the Layer Picker through the addition of a faceted search option. This feature enables users to more efficiently search through and select more than 900 imagery layers by specifically targeting the imagery attributes desired (e.g., source, period, day or night, etc.).
To enter the imagery layer faceted search panel, simply click on the orange "+ Add Layers" button at the bottom of the layer box on the left side of the main window to open the imagery layer category panel. The faceted search panel appears by either typing in the search bar or clicking on the "filter" icon in the upper left corner of the panel (image at right).
Use the faceted search panel to narrow an imagery search using several filters. Facet categories include:
Coverage: Filter layers that are available on the current date being viewed or for static layers that are always available regardless of date, such as the Blue Marble composite image or the place names layer.
Category: Filter layers using the same categories shown in the Layer Picker panel under the three tabs at the top of the panel (Hazards and Disasters, Science Disciplines, Featured).
Measurements: Filter by the type of measurement shown in the imagery (precipitation rate, water vapor, aerosol optical depth, etc.).
Source: Filter by specific satellite or sensor/instrument.
Period: Filter imagery by temporal resolution (day, month, year, etc.).
Day/Night: Filter imagery by whether the layer shows daytime or nighttime imagery.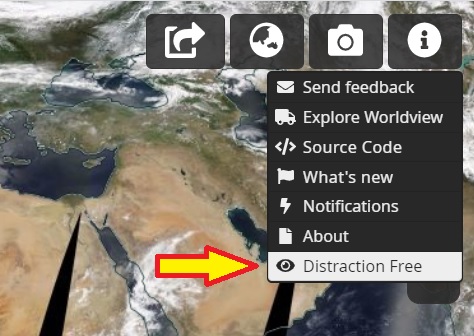 Finally, and as an added bonus, the Worldview team created a new Distraction Free Mode that removes menus, buttons, timelines, and other elements that overlay imagery. Entering Distraction Free Mode is easy – simply click on the information box ("i") in the upper right corner of Worldview and select Distraction Free at the bottom of the drop-down menu.
Here what the Worldview window looks like with Distraction Free off (left image) and on (right image):
To exit Distraction Free Mode, simply go back to the information button in the upper right corner and turn the feature off.
Using Worldview has never been easier. Check out Worldview today, and see how new imagery and features make it even easier to interactively explore our dynamic planet.