On Jan. 16, 2014, dry conditions and warm winter temperatures in California permitted embers from a campfire in the hills above Glendora, California, to grow into a large wildfire that claimed several homes, caused mandatory evacuations of about 2,000 people, and sent smoke and ash across the Los Angeles Basin, prompting an air quality alert by public health officials. The Multi-angle Imaging SpectroRadiometer (MISR) instrument aboard the Terra satellite passed over the region at 10:45 a.m. on Jan. 16, about five hours after the fire was first reported.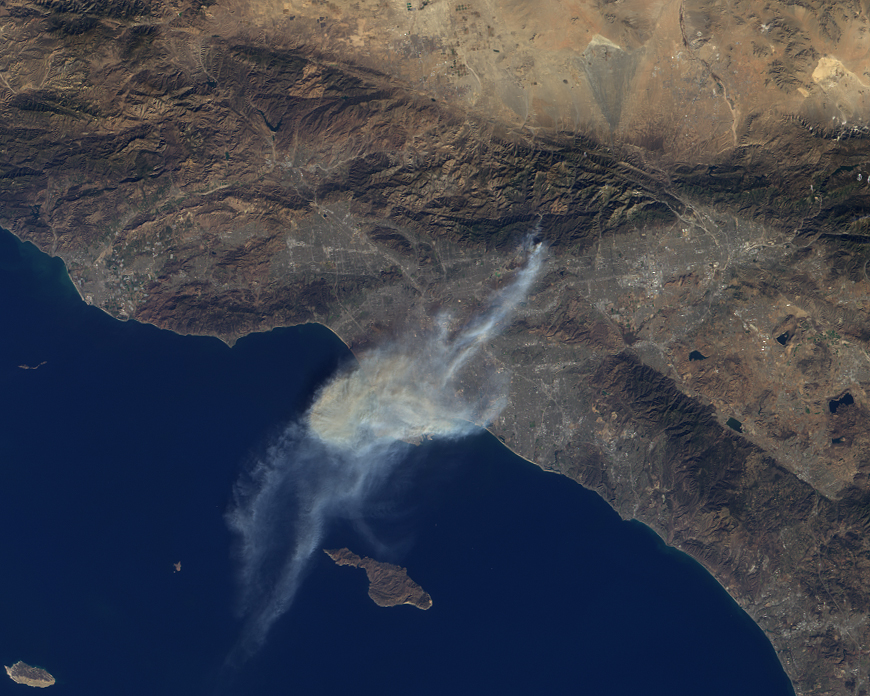 This set of images of the Colby Fire shows a natural color rendering (Figure 1) from MISR's vertical-viewing (nadir) camera. Winds carried the smoke out over the Pacific Ocean to at least 118 miles (190 kilometers) from the inland fire location. Combining the MISR nadir image with a view acquired at 46 degrees off of nadir, a stereoscopic "anaglyph" image is generated, giving a 3-D view of the plume when viewed with red/blue glasses (red filter over the left eye).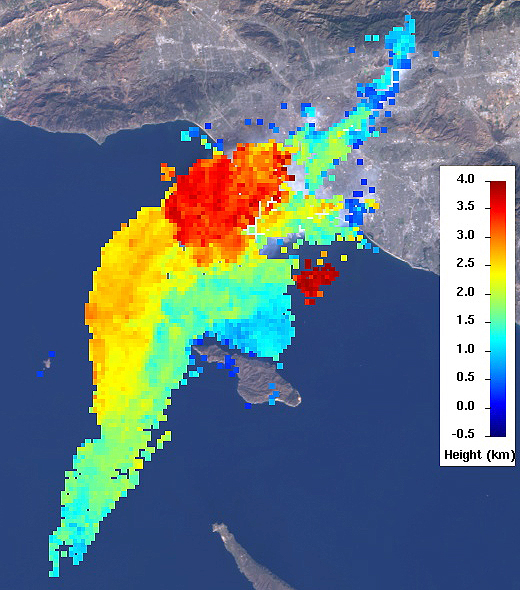 To give the stereoscopic effect, this image is rotated so that North is at the left. A computer-processed height field is shown in Figure 2, indicating that smoke was elevated to a height of about 2.5 miles (4 kilometers), contributing to the widespread dispersal of the airborne particulates. The results of this analysis also place the areal coverage of the smoke and ash at about 3,860 square miles (10,000 square kilometers).
These data were collected on orbit 74901 of the Terra spacecraft (path 41, MISR blocks 63-64).
MISR was built and is managed by NASA's Jet Propulsion Laboratory (JPL) in Pasadena, California, for NASA's Science Mission Directorate in Washington, D.C. The Terra satellite is managed by NASA's Goddard Space Flight Center in Greenbelt, Maryland. The MISR data were obtained from NASA's Atmospheric Science Data Center (ASDC) in Hampton, Virginia. JPL is a division of the California Institute of Technology in Pasadena.
Visit the JPL Photojournal to view the 3-D image and for more information.
Text and images from the JPL Photojournal