The image above is a Black Marble Nighttime Blue/Yellow Composite (Day/Night Band) image of Fires in New Mexico, USA on April 23, 2022. This image was acquired by Visible Infrared Imaging Radiometer Suite (VIIRS), aboard the joint NASA/NOAA Suomi National Polar-orbiting Partnership (Suomi NPP) satellite. The fires are visible northeast of Albuquerque, the major city in the lower left corner of the image. Lights from larger cities are visible along the major roads, and the fires are occurring in areas that are not in close proximity to these major roads.
The map below shows the fires and thermal anomalies layer overlaid on the fires. The fires in the center are the Calf Canyon and the Hermits Peak Fires which have merged to become the largest fire currently in the state; further northeast is the Cooks Peak Fire. The fires visible further east have not yet been named. You can click on the back (left) arrow in the lower left corner of the embedded map to change the date to April 7, then click on the forward (right) arrow to see the progression of the fires over time.
Image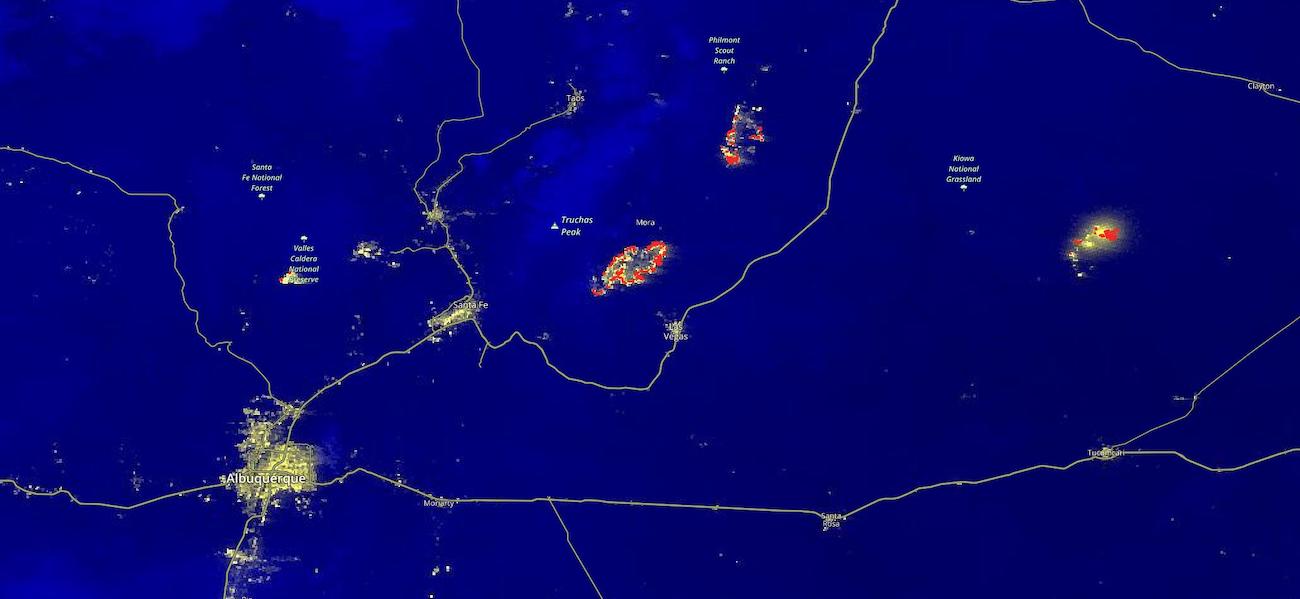 The Black Marble Nighttime Blue/Yellow Composite (Day/Night Band) layer a false color composite using the VIIRS at-sensor radiance and the brightness temperatures from the M15 band. The false color scheme produces nighttime city lights and active fires in shades of yellow, and nighttime cloud presence in shades of blue. During bright moonlight conditions, moonlight reflected from cloud tops and the land surface may also provide a yellow hue to those features.
Learn more about the Blue/Yellow composite: New Black Marble Nighttime Blue/Yellow Composite Product Makes Detecting Power Outages Easier
Visit Worldview to visualize near real-time imagery from NASA's EOSDIS, and check out more Worldview weekly images in our archive.