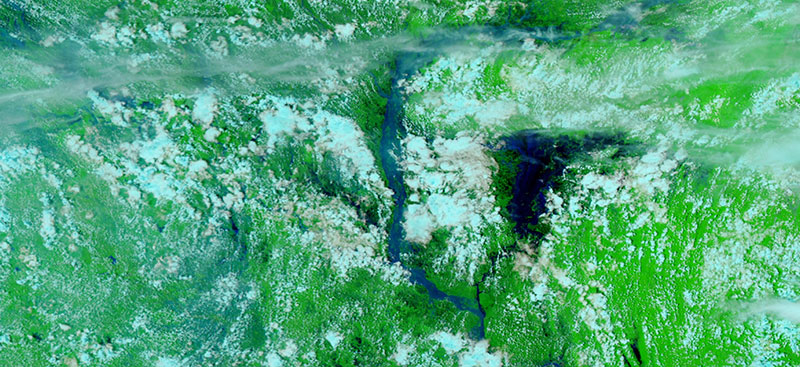 False-color image of flooding along the Brahmaputra River in Bangladesh. The image was acquired on 25 July 2020 by the Visible Infrared Imaging Radiometer Suite (VIIRS) instrument, aboard the joint NASA/NOAA NOAA-20 satellite. The image is comprised of the VIIRS Bands M11-I2-I1. This band combination is useful for distinguishing floods from the surrounding landscape. Liquid water on the ground appears very dark since it absorbs in the red and the shortwave infrared (SWIR). Sediments in water appear dark blue. Clouds comprised of small water droplets scatter light equally in both the visible and the SWIR and will appear white. These clouds are usually lower to the ground and warmer. High and cold clouds are comprised of ice crystals and will appear turquoise.
View a comparison of the imagery from 25 July 2020 and imagery from before the flooding on 9 June 2020. 
Visit Worldview to visualize near real-time imagery from NASA's EOSDIS, and check out more Worldview weekly images in our archive.