Image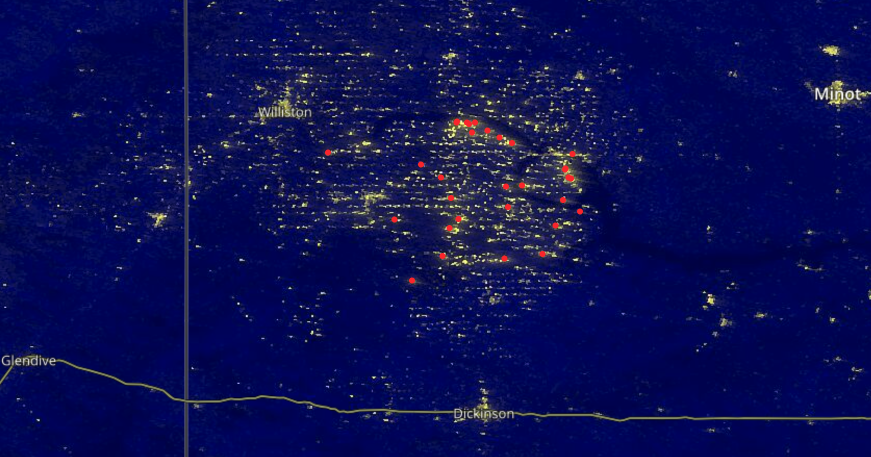 Black Marble Nighttime Blue/Yellow Composite (Day/Night Band) image of oil fields in North Dakota. This image was acquired by Visible Infrared Imaging Radiometer Suite (VIIRS), aboard the joint NASA/NOAA Suomi National Polar-orbiting Partnership (Suomi NPP) satellite. This image is a false-color composite using the VIIRS at-sensor radiance and the brightness temperatures from the M15 band. The false color scheme produces nighttime city lights in shades of yellow with infrared, nighttime cloud presence in shades of blue.
Click on the image to view the map in Worldview. The map shows many lights associated with the oil pads in the Bakken Formation which lies partly in North Dakota. Clustered city lights are also evident in the image as well. Overlaid on the nighttime image are the nighttime fire and thermal anomalies layer. These thermal anomalies are gas flares. Natural gas is a byproduct of oil drilling and sometimes the gas is burned at the site. 
Learn more about the Blue/Yellow composite: New Black Marble Nighttime Blue/Yellow Composite Product Makes Detecting Power Outages Easier
Visit Worldview to visualize near real-time imagery from NASA's EOSDIS, and check out more Worldview weekly images in our archive.