Image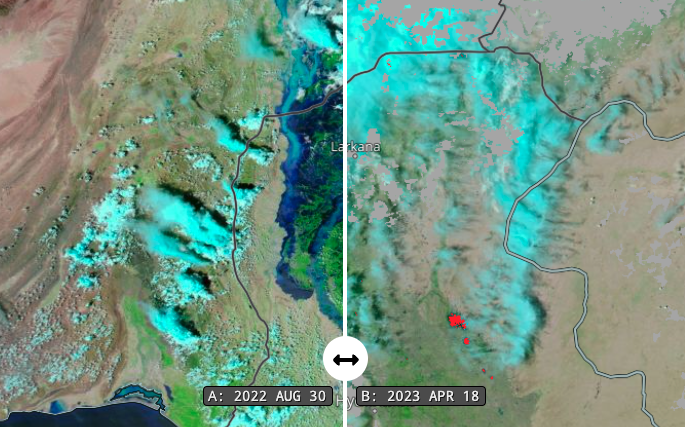 The comparison map shows a false-color corrected reflectance image (Bands 7-2-1) of flooding in Pakistan on August 30, 2022 on the left "A" side; on the right, "B" side, is the Flood 3-day window composite ending on August 30, 2022. These images are from the Moderate Resolution Imaging Spectroradiometer (MODIS) instruments aboard NASA's Terra and Aqua satellites. The flooding has been caused by eight consecutive weeks of rainfall, and a significant portion of the country is currently covered by floodwaters, according to The Washington Post.
Swipe the bar back and forth to see how the dark blue flood waters in the left image coincide with the red flood pixels shown on the right side. The Flood 3-day window composite is created via the following three key steps: (1) water detection algorithm applied to each MODIS observation; (2) compositing of these water detections over time to reduce errors and more rigorously identify water; and (3) differentiating flood from expected surface water.
To fully interact with the map, click on the image to open the full version of Worldview in a new browser tab.
Visit Worldview to visualize near real-time imagery from NASA's EOSDIS; check out more Worldview weekly images in our archive.
Dataset: MCDWD_L3_NRT doi:10.5067/MODIS/MCDWD_L3_NRT.061
Reference: Shih, G., Hussain, S., & Jeong, A. (August 30, 2022). Pakistan reels from 'apocalyptic' floods, pleads for international aid. The Washington Post.