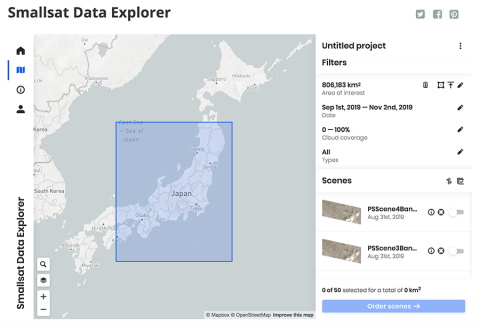 The Smallsat Data Explorer (SDX) allows users to search, discover, and access data acquired through the Commercial Smallsat Data Acquisition (CSDA) Program. All data purchased by NASA are mirrored in NASA infrastructure for long-term preservation.
Researchers interested in accessing the data can utilize Earthdata Login for authentication and initiate data download requests. Data will be made available for download upon approval and acceptance of the end user license agreement (EULA).
Currently, SDX supports access to data from Planet and Spire that was acquired as part of the CSDA pilot phase. The CSDA pilot phase evaluation also included data from Maxar (formerly DigitalGlobe, Inc.). Work is underway to support search and access to Maxar data via SDX.
For data that are not already mirrored by NASA, authorized researchers can use the following vendor-specific tools to search and request data.
All data requests must be approved by CSDA data managers. Contact CSDA to provide your name, email address, and pertinent information (grant number, contract number, etc.) to indicate that you are authorized to use the data. The CSDA team will verify if the user is authorized for data access first. Once verified, the user will be provided with additional information on how to request and access data.
As additional commercial datasets are evaluated and acquired, these datasets will also be made available. Please check back regularly.
Data and End User License Agreements
Vendor
Data Available
Who is Authorized to Use the Data?
Where to Get Data
Can PIs Submit New Orders
EULA
Planet
PlanetScope, RapidEye
U.S. Federal civil agencies (including NSF) and their funded researchers
Planet Explorer
Yes
Planet Expanded EULA
SkySat
SDX
No
Spire
GNSS Radio Occultation, GNSS Grazing Angle Reflectometry, Satellite Precise Orbital Determination (POD) and Satellite Attitude, Total Electron Content, Ionospheric Profiles, Scintillation, Ocean Winds MSS Level-2
U.S. Government (funded) researchers
SDX

Yes

Spire USG EULA
Raw intermediate frequency
By request (PDF)
GNSS Grazing Angle Reflectometry Sea Ice Product, GNSS Grazing Angle Reflectometry Altimetry Product
SDX
Magnetometer, Soil Moisture
Request authorization
GNSS-R Level-1 Bistatic Radar Cross Section 
SDX
Maxar (formerly DigitalGlobe)
WorldView 1, WorldView 2, WorldView 3, QuickBird, and GeoEye
NASA (funded) researchers
CSDA data team
Yes
Commercial Data/Imagery EULAs Fact Sheet
IKONOS
No
NextView EULA
WorldView 4
Maxar EULA
Teledyne Brown Engineering, Inc.
DESIS
U.S. Government (funded) researchers
TCloudHost
Yes
DESIS EULA
Polar Geospatial Center
EarthDEM
U.S. Government (funded) researchers
SDX
Yes
Commercial Data/Imagery EULAs Fact Sheet
More Information
Information on technical specifications of the commercial data can be found on the Commercial Datasets page