Image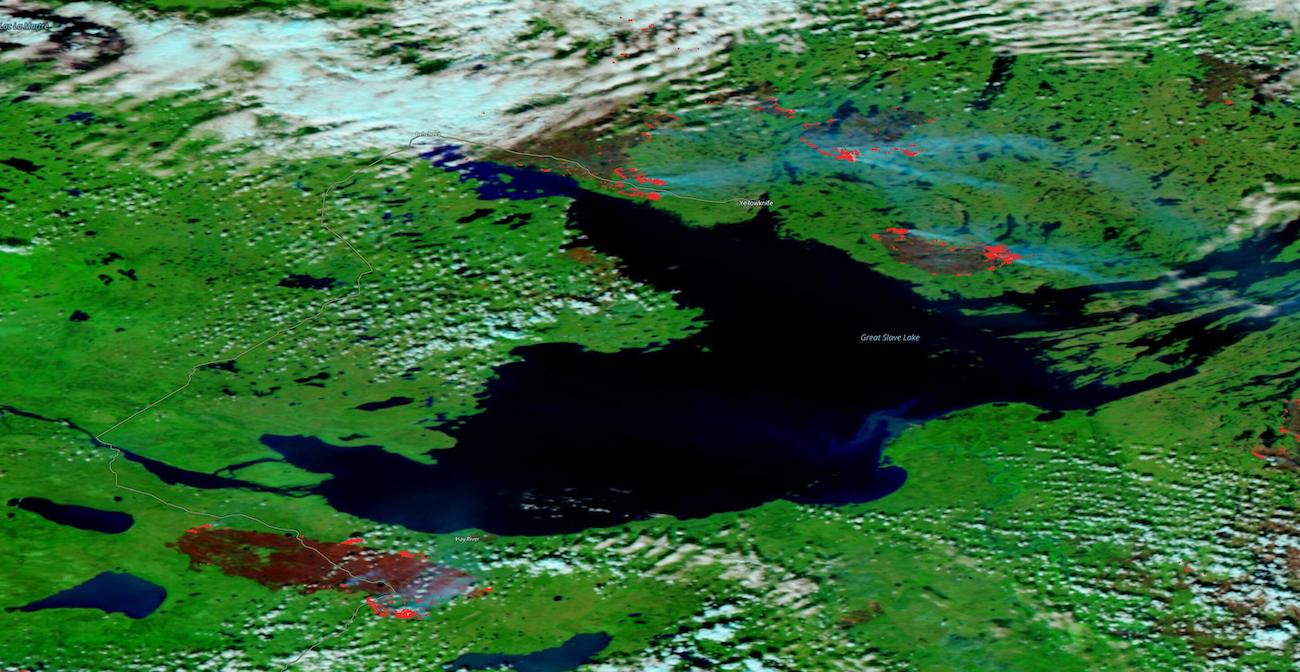 False-color corrected reflectance image of fires and burned areas near Yellowknife and Hay River, Northwest Territories, Canada on August 16, 2023. This image was acquired by the Visible Infrared Imaging Radiometer Suite (VIIRS) aboard the joint NASA/NOAA NOAA-20 satellite. Burned areas appear as dark red patches and active fire detections are overlaid on the image as bright red dots. The red dots show areas of the active fire front.
Fires are nearing the Northwest Territories capital city of Yellowknife, on the northern shore of Great Slave Lake (the large body of water in the center of the image). The fires are burning on both sides of Highway 3, the major highway in and out of the city. The city of 20,000 is currently under evacuation orders. Hay River and Enterprise, located southwest of the lake, experienced large fires earlier this week. Visit Worldview to interact with the map and view the fires and burned areas. 
Visit Worldview to visualize near real-time imagery from NASA's EOSDIS; find more imagery in our Worldview weekly image archive.
References:
Jones, D. (2023). Out-of-control wildfires in Yellowknife, Canada, force 20,000 residents to flee. NPR. Accessed August 17, 2023.
Yousif, N. (2023). Canada wildfire: Race to evacuate city as blaze approaches. BBC. Accessed August 17, 2023.